Online Fundraising for Schools
Create school fundraising campaigns that raise more

With DonorMozo, you can create school campaigns in 10 minutes and start collecting for students and the school activities

From scholarship fundraising to sports fundraisers to many others. Collect funds instantly with a few clicks

Create customized campaigns for a cause related to your school and promote them on social media to connect with younger audiences and their parents

Use next-gen donation collection methods like Google Pay, Apple Pay, etc. to connect with students and parents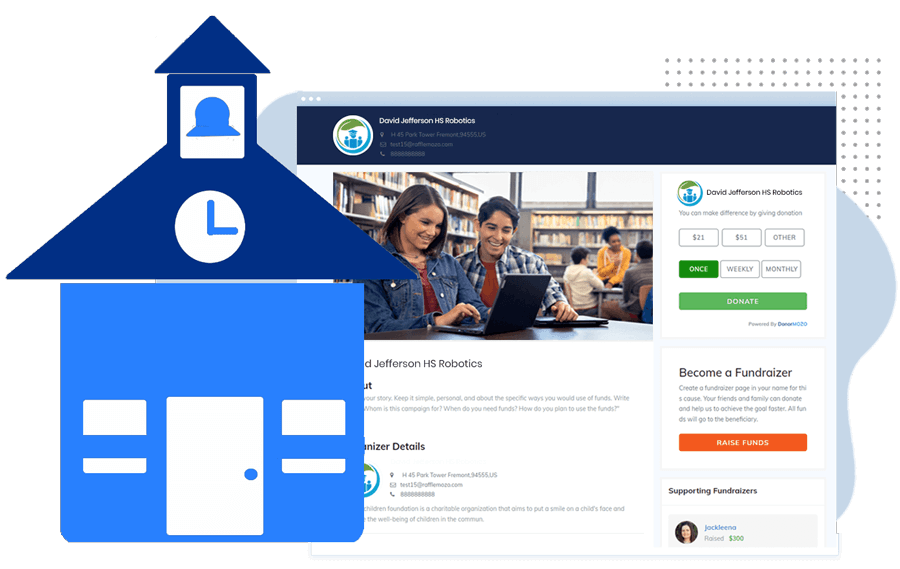 The Most Advanced Donation Platform for Educational Institutions' Fundraising- DonorMozo
DonorMozo helps schools, colleges, and other educational institutions to fulfill all their fundraising needs. The online fundraising platform for schools make fundraising simple, stress-free, and straightforward. They help increase donation revenue and enhance your brand image!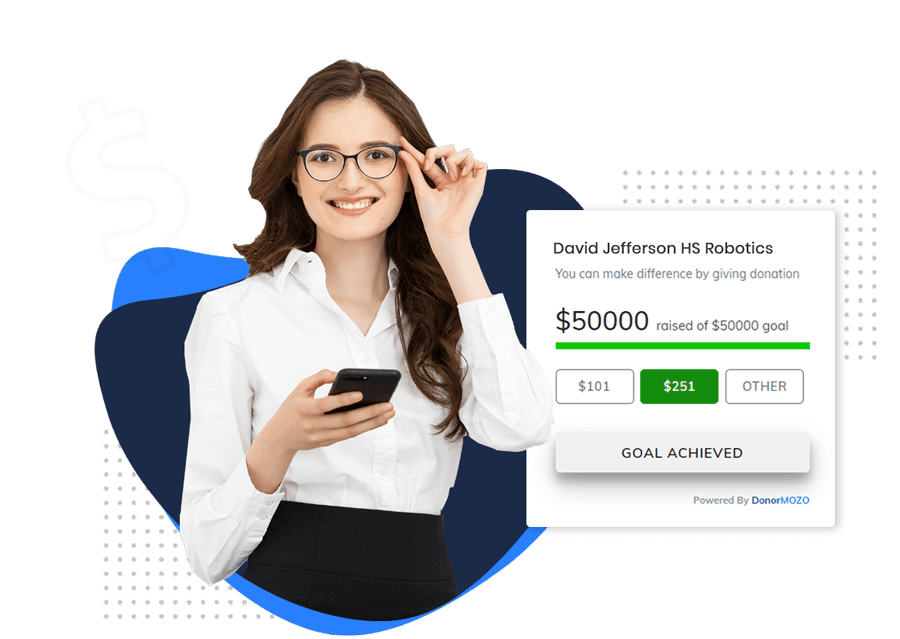 Collect for Scholarship Funds
Brilliant students often need scholarships to be able to continue their education. With DonorMozo, online fundraiser for schools, you can create campaigns to help such students and raise funds as per the requirements.
Schools, colleges, universities, and educational institutions often need money to develop or reconstruct the building or its key elements. With DonorMozo, you can raise money for the development/reconstruction or advancement of your educational institution.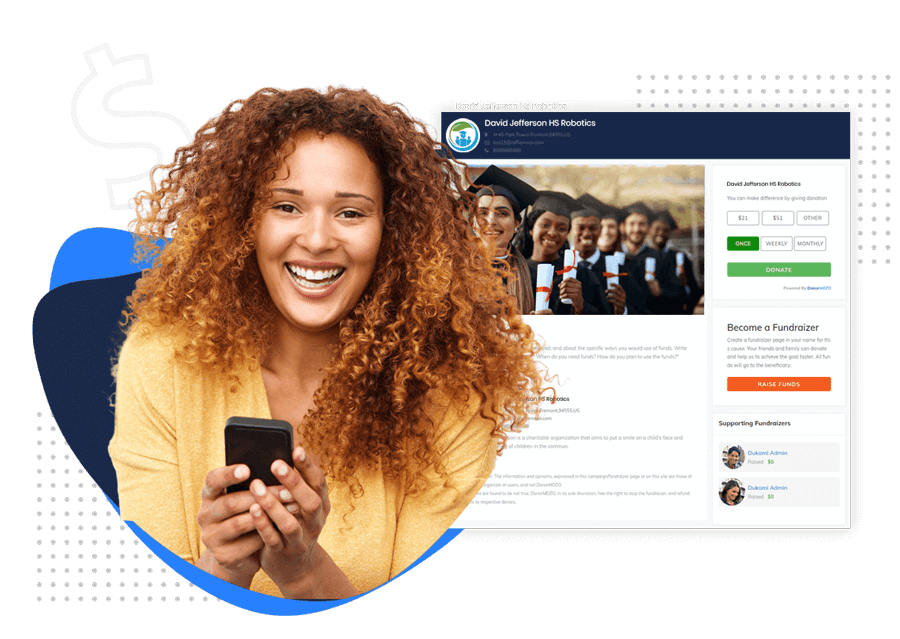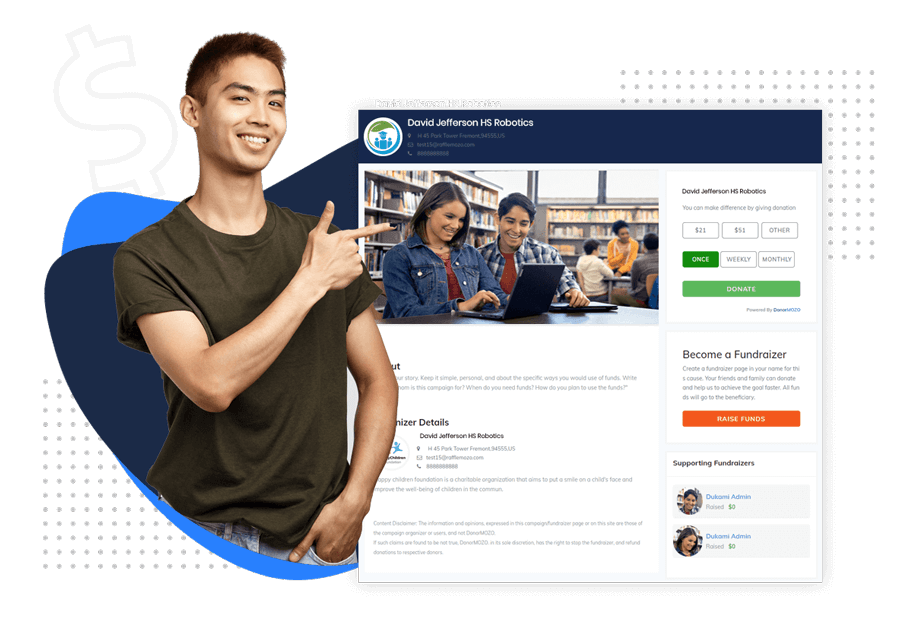 Educational trips are an essential part of hands-on learning. You can use DonorMozo for online fundraising for schools and to collect funds for inter-city, inter-state, or even international educational trips.
Some underprivileged kids need help financing their education, so they don't drop out due to a lack of funds. With DonorMozo, educational institutions can raise funds to help those in need and even create a separate fund to help more of such students in the future.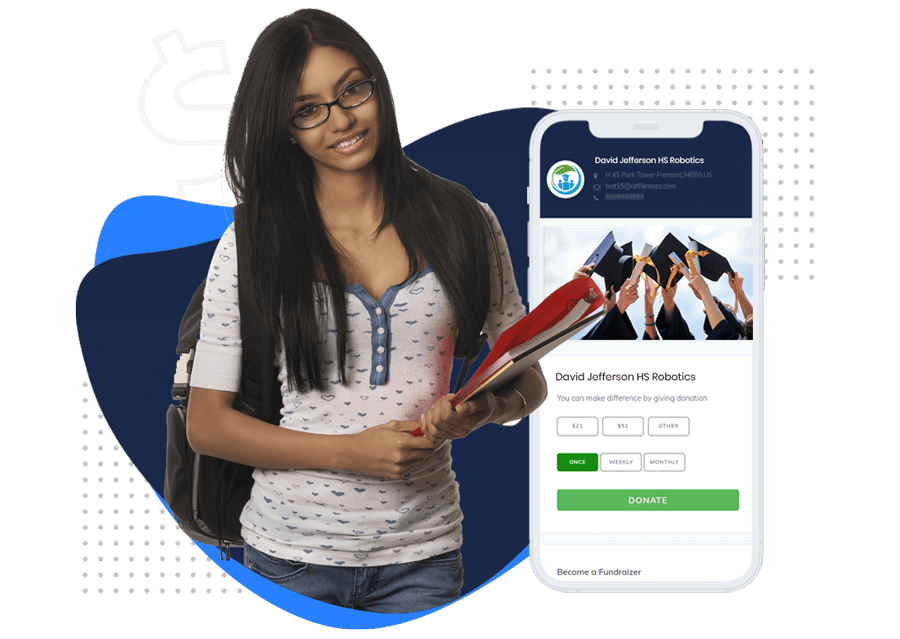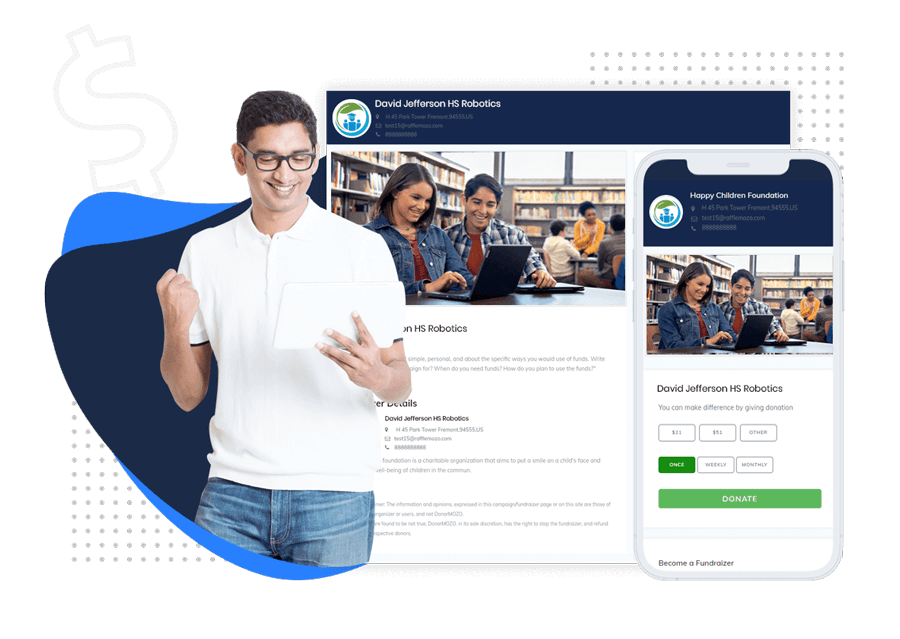 Mobile friendly Donations
Most parents are short on time and always in a hurry. You can make the donation process easier for such people by enabling mobile-friendly donations they can contribute to when they are on the move.
Makes Recurring Donations Simpler
With DonorMozo, donors can easily choose to pay weekly, monthly, or yearly. It only takes a few seconds to set that up.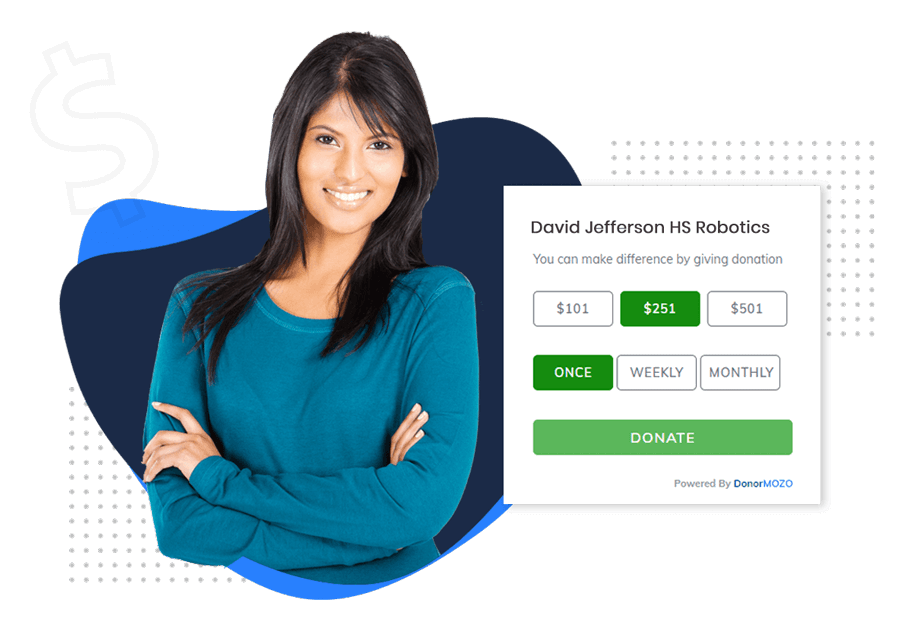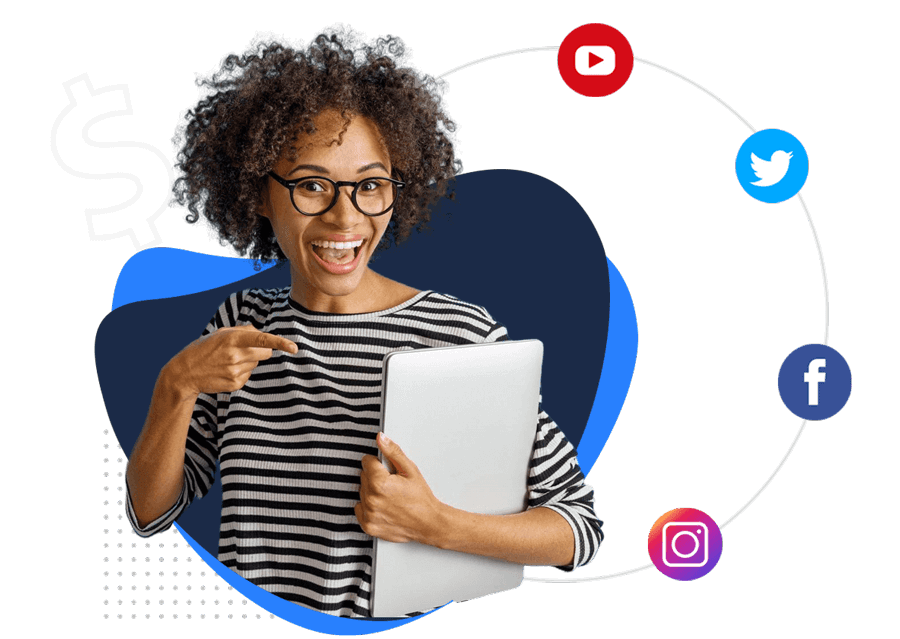 Social media is a powerful tool. DonorMozo helps educational institutions to promote their campaigns on multiple social media platforms simultaneously and reach more audiences.
With DonorMozo, donors and donation seekers don't have to worry about the swiftness and security of the payments. The money is always secure and can be transferred at lightning speed.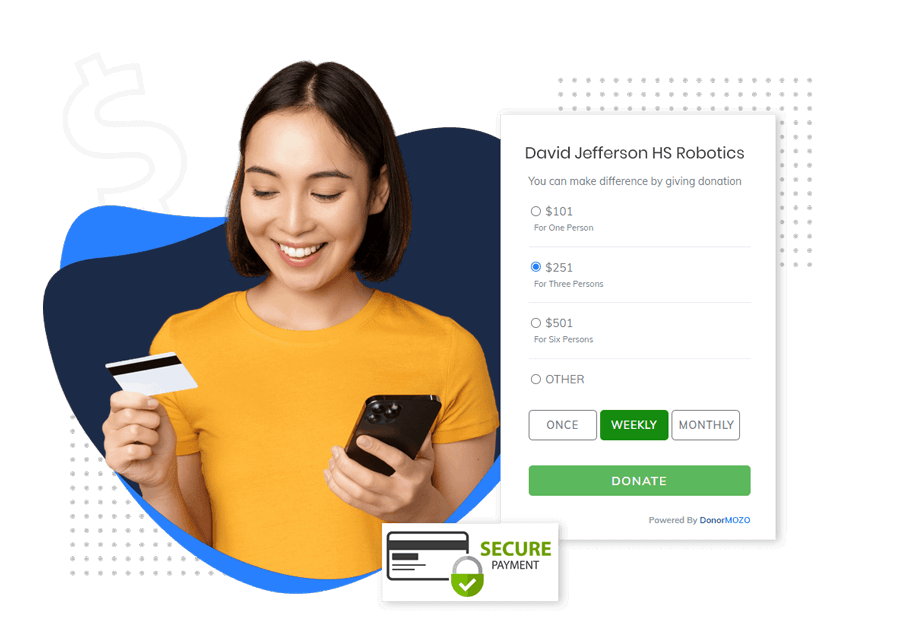 DonorMozo allows your donors to become your brand ambassadors. It helps promote peer-to-peer fundraising so that your donor base can grow maximum with minimum efforts.
Track Progress Anytime, Anywhere
Thanks to DonorMozo's excellent reporting, you can track the progress of your donation campaigns anytime and anywhere. You can also wave goodbye to manual tracking of donors and tons of paperwork you used to do.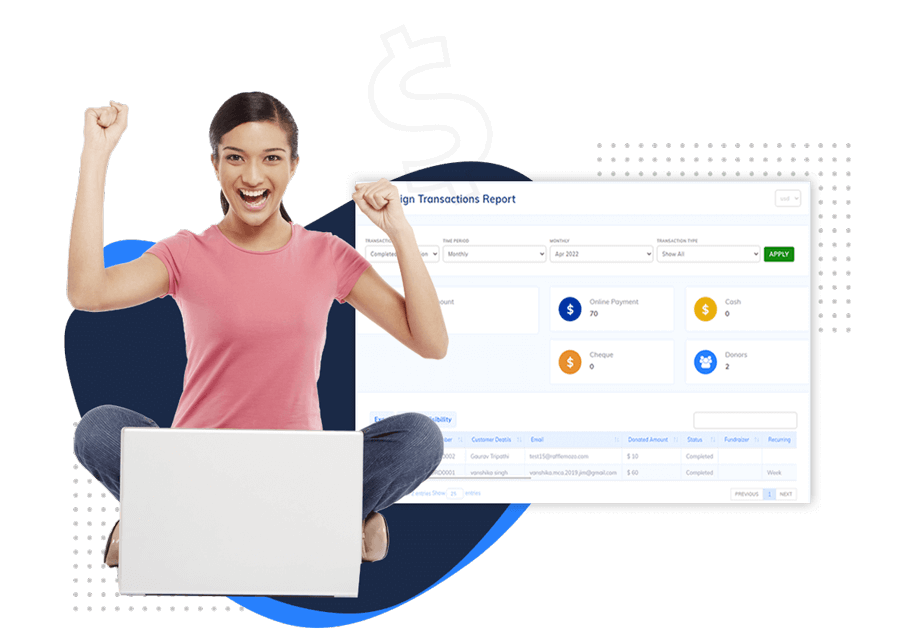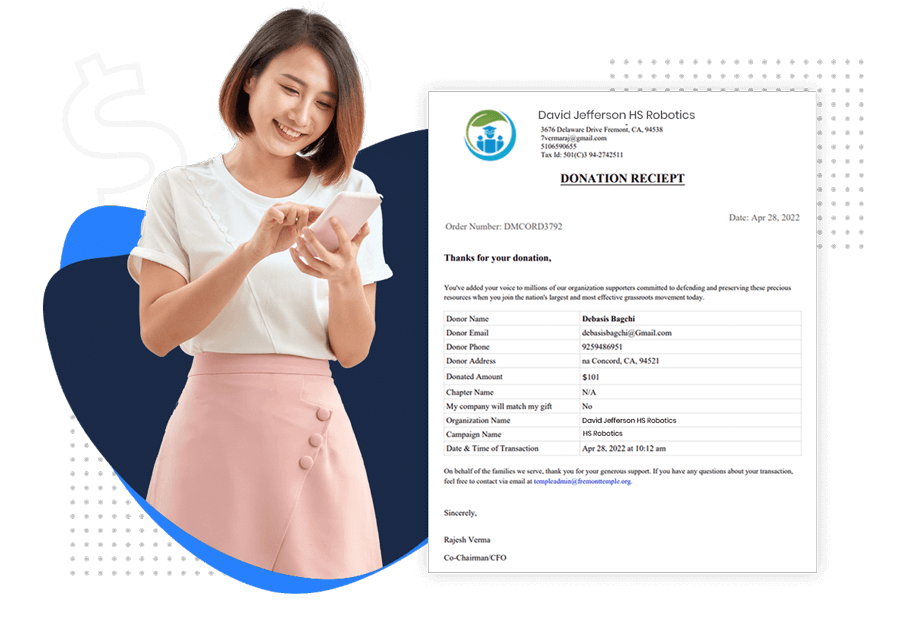 Offer Custom Branded Receipts
Enhancing your educational institution as a brand is essential. You can do that by generating custom branded receipts via DonorMozo that confirm your authenticity and directly promote your brand.
Simplify Donor Management
The donor management process doesn't need to involve a lot of manual effort. Let DonorMozo make it simpler by allowing you to record donors' data and connect with every donor quickly. No paperwork is needed, we promise!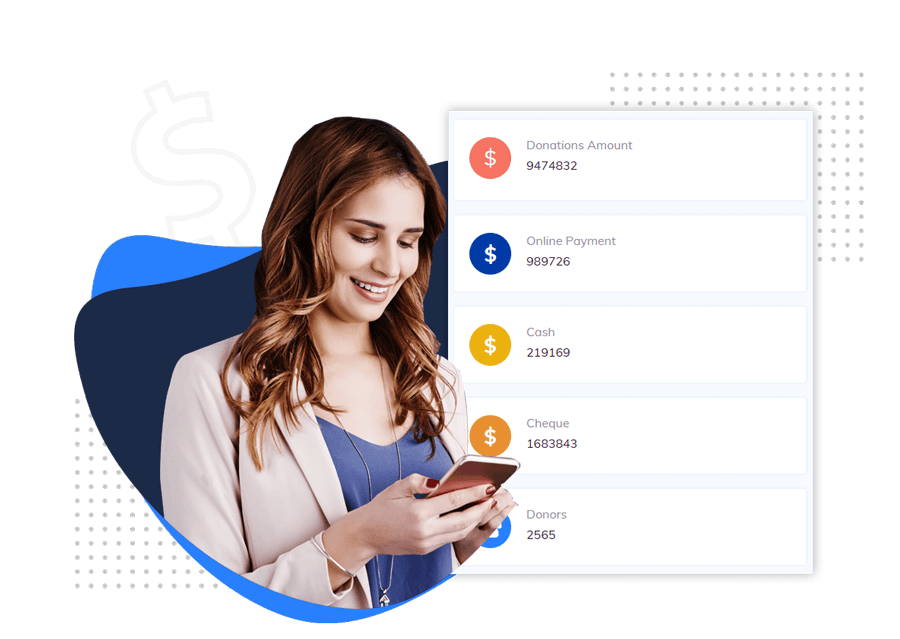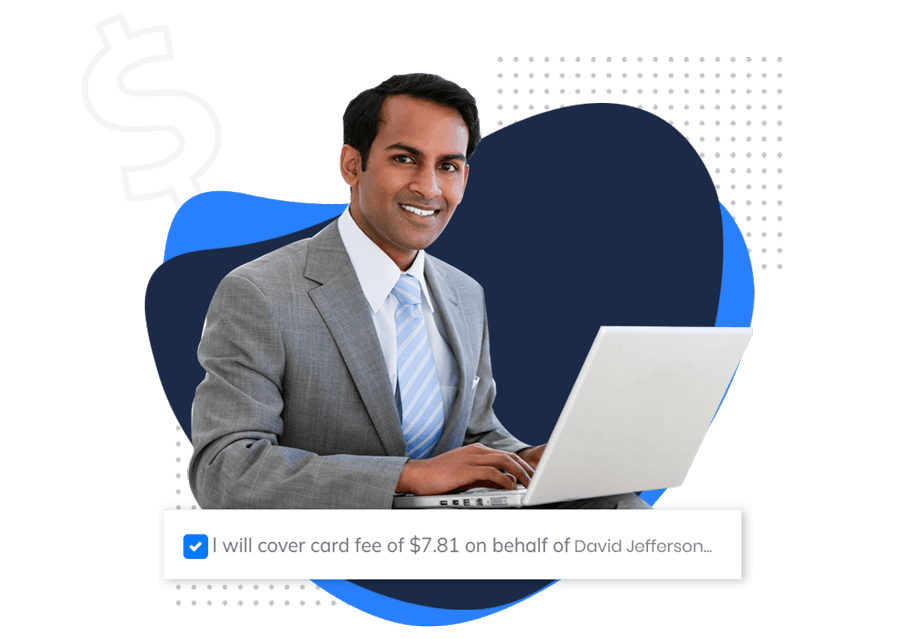 Get 100% of the donation amount every time someone donates to your cause. Prompt the donors to cover the fees via DonorMozo. It's a win-win!
Save the time of donors by letting them donate by just scanning a QR code. All they need is a smartphone and a stable internet connection to make donations from anywhere on the planet.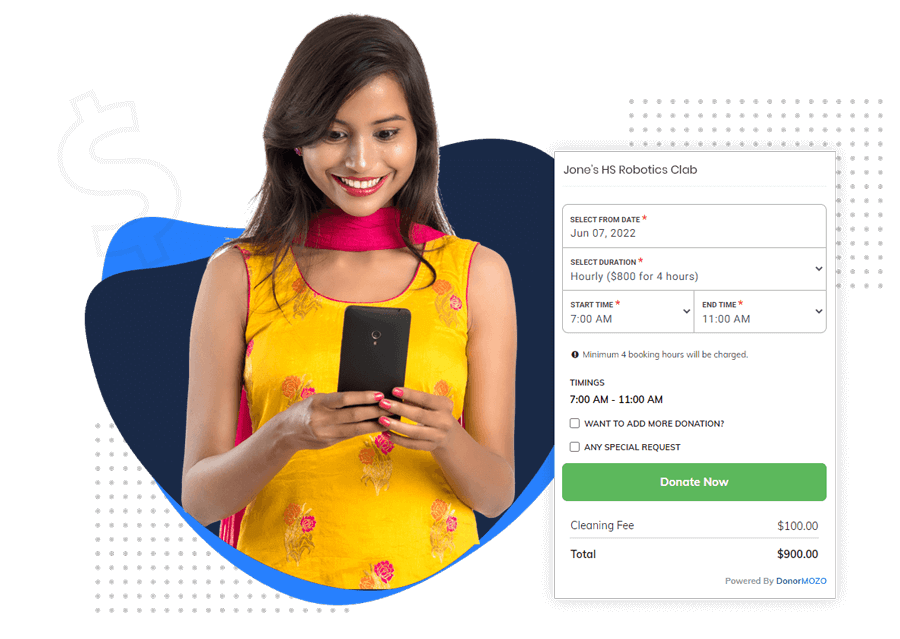 Let people book your educational institution's halls for private functions, ceremonies, events, or festivities to earn an extra income. With DonorMozo, you can also offer Hall Booking services with add-ons like catering, furniture, lights, decoration, etc.
DonorMozo is Loaded with Cool Features
You might be wondering what makes Donormozo unique.
Here are some features you'll fall in love with: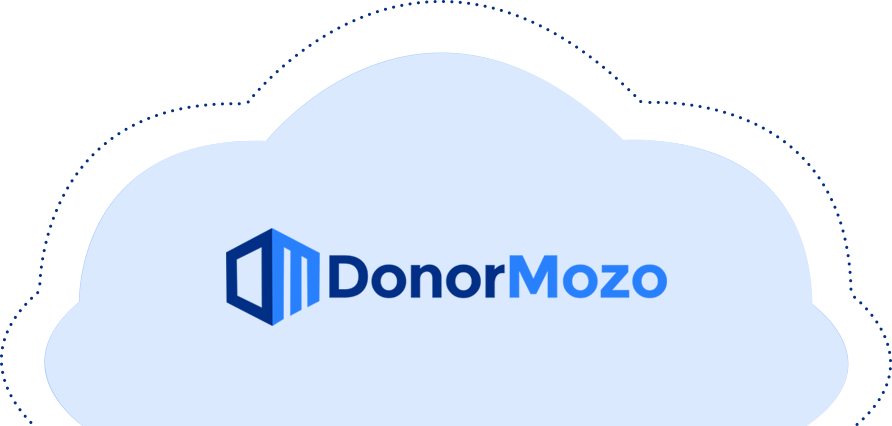 Support pros Help DonorMozo
to drive impact and reach your goals faster.
"We would recommend DonorMozo to any non profit organization looking to streamline campaign efforts."
Carmel Granahan
NGO - Manager
"For someone that is not very "techy" like me, DonorMozo made my job easy. It is an extremely user-friendly platform."
"I would recommend DonorMozo to everyone who runs a non-profit and is in need of a way for people to donate online."
Margaret
Marketing Manager
"DonorMozo is brilliant platform that introduces more transparency in donations."
"DonorMozo is the platform that made it possible to make a donation with utmost ease."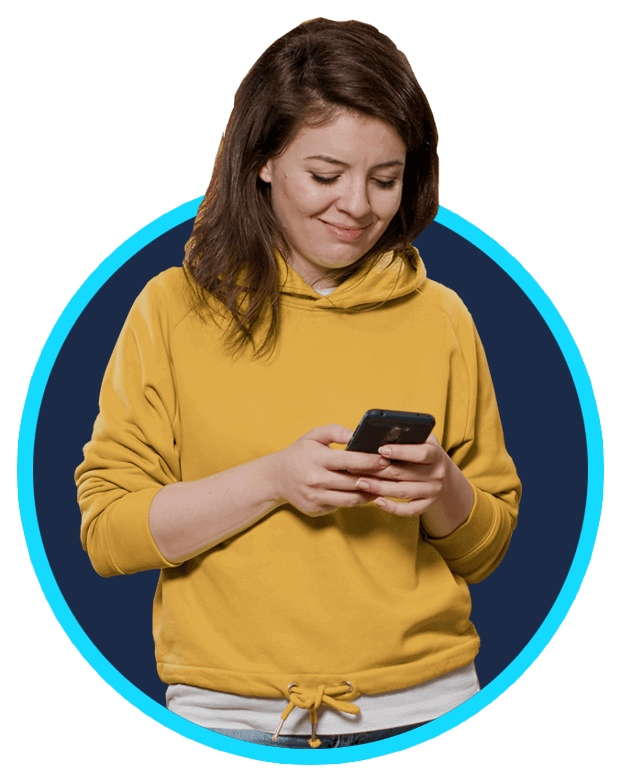 Ready to start fundraising?
Need any support go ahead schedule a call with us.
Let's Grow Your Empact Together
Resources for Political Fundraisers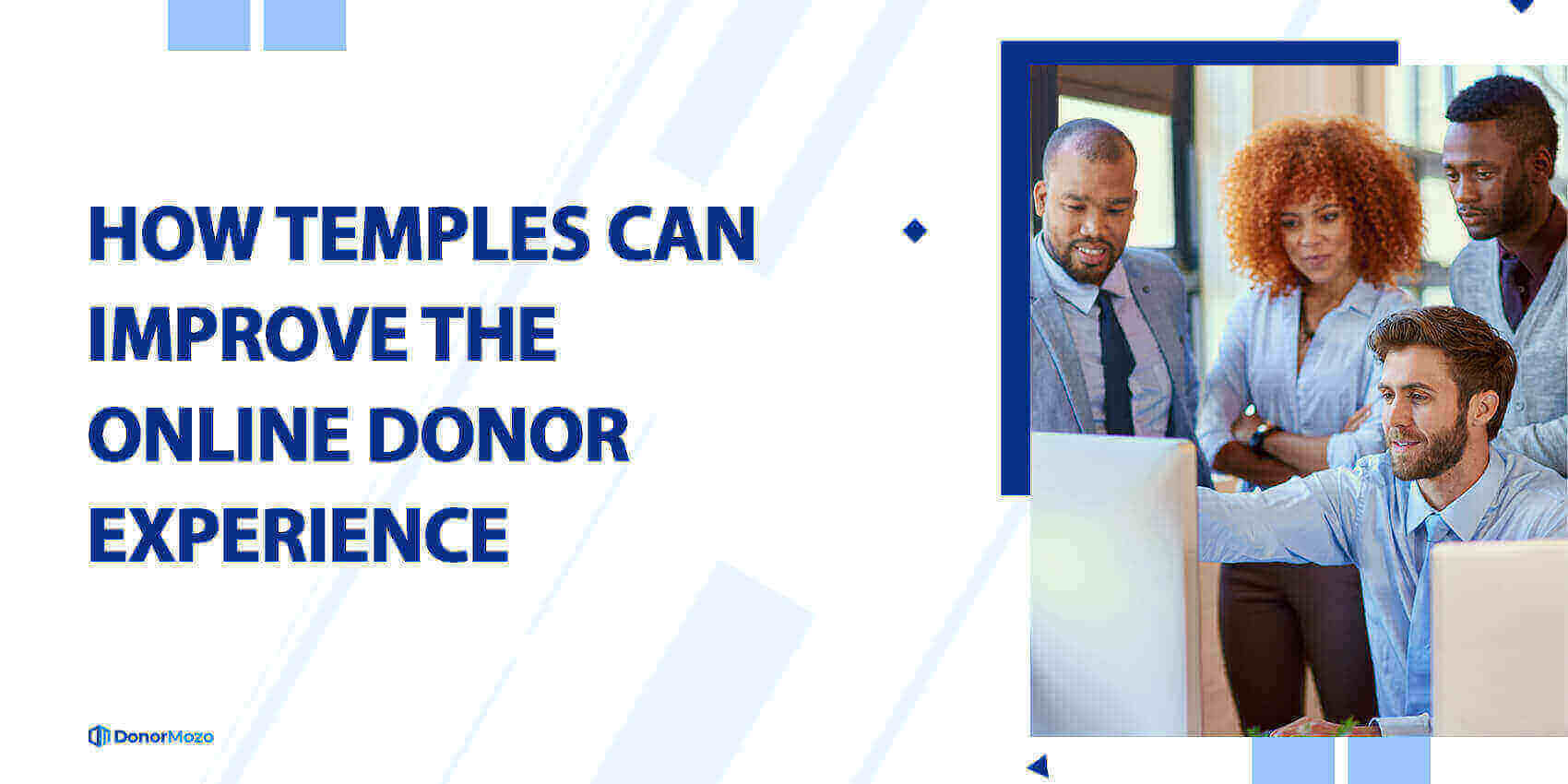 Gone are the days when donations were only limited to visiting a temple and adding your contributions to a donation box. Thanks to the advancement ...
Trusted by 152,000 customers worldwide
to drive impact and reach your goals faster.









If you need help figuring out DonorMozo, reach out to us, and we'll guide you through every step of the way. We are professional and polite, never intrusive!