7 Key Features to Look for in Nonprofit Fundraising Platform
DonorMozo editor
13 Jul 23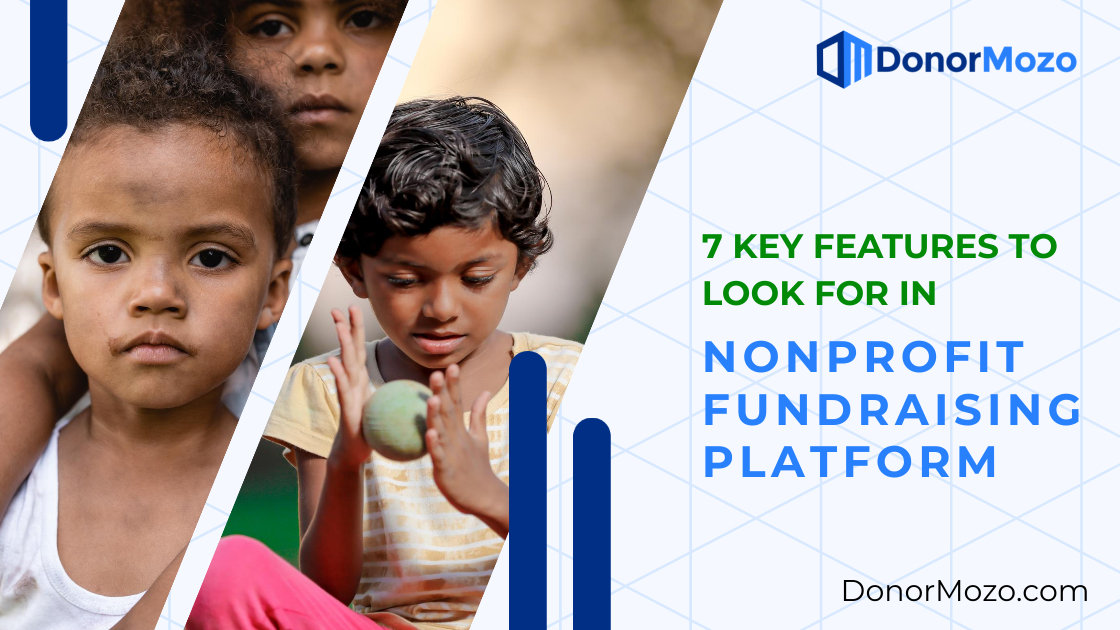 Nonprofit organizations rely heavily on donations and fundraising efforts to sustain their operations and achieve their mission. With the growth of digital technology, nonprofit organizations have the opportunity to leverage online fundraising platforms to reach a wider audience and collect donations more efficiently. However, not all nonprofit fundraising platforms are created equal, and organizations need to consider several key features when choosing the right platform for their needs. In this blog post, we will discuss the top 8 features that non-profit organizations should look for when choosing an online fundraising platform, with a focus on DonorMozo, the best online fundraising platform for nonprofits
1. User-Friendly Interface
A fundraising platform that is easy to use and navigate is essential for nonprofits, especially for those with limited technical expertise. A user-friendly interface allows organizations to set up their fundraising campaigns quickly and efficiently, and the great fundraising platforms offer donors with a seamless experience when making online donations. DonorMozo is an all-in-one fundraising platform designed with a user-friendly interface, making it easy for nonprofits to create and customize their fundraising campaigns without any technical skills. The fundraising platform allows intuitive design and also makes it easy for donors to navigate and make donations, which can ultimately lead to higher conversion rates and increased donations.
2. Mobile-friendly nonprofit campaign and donation page
In today's world, people are increasingly using their mobile devices to access the internet, including when making donations. Therefore, it's essential for nonprofits to choose a platform that is mobile-optimized to ensure that donors can easily access their online donation forms and campaigns on their smartphones or tablets. DonorMozo is fully optimized for mobile devices, allowing donors to make online donations quickly and securely from their mobile devices. This feature also allows nonprofits to expand their reach and connect with donors who prefer online giving and online fundraising events.
3. Multiple Payment Options
Donors prefer to have a range of payment options when making donations. A top fundraising platform for your organization that supports multiple payment options can help nonprofits attract more donors and raise more money. DonorMozo supports multiple payment options, including credit or debit cards, PayPal, apple pay, and Google pay. This feature makes it easy for donors to choose their preferred payment method, which can ultimately lead to a more successful fundraising experience.
4. Recurring Online fundraising
Recurring donations are a simple way for donors to regularly support their preferred nonprofit organizations. These types of donations are automatically deducted from a donor's account at an agreed frequency, which can be monthly, quarterly, or annually. This dependable stream of income is essential to enable nonprofits to plan their budgets and programs with more certainty. When donors choose to make recurring donations, they are not just supporting a cause, but they are making a long-term commitment to the organization's mission. Additionally, by setting up a recurring online donation page, donors can also reduce the administrative cost incurred by the charity in processing individual donations. Overall, It is an easy way for donors to support a cause they care about while the right fundraising platform provides the financial stability nonprofits need to create change.
5. Peer-to-Peer fundraising
Peer-to-Peer fundraising is a method of fundraising where individuals or groups raise money on behalf of a nonprofit organization or cause. It is also known as a P2P donation tool. The approach typically involves soliciting donations from relatives, friends, coworkers, and acquaintances. The organization receiving the funds may provide materials to help the individuals who volunteer their time in fundraising. More often than not, P2P fundraiser provides an easy way to connect with a broader audience, as the campaign extends to the participant's personal and professional networks. Peer-to-Peer fundraising has gained popularity due to its effectiveness in mobilizing people and sparking a culture of giving.
6. Integration with Other Tools
Non-profits often use multiple tools to manage their operations, such as email marketing software, social media management, and customer relationship management (CRM) systems. A donation platform for your organization that integrates with other tools can help streamline operations and make every fundraising strategy more efficient. This feature of fundraising solution enables organizations to manage their donor data and communicate more effectively and gain insights into their fundraising process.
7. Advance Donor Security
With the rise of cyberattacks, data breaches, and fraud, nonprofits need to prioritize the security of their donor information and payment details. A leading fundraising software that has advanced security features can help organizations protect their donors' sensitive data and build trust with their supporters. Online fundraising tool, DonorMozo has advanced security features, including SSL encryption and PCI compliance, to ensure that all donor information and payment details are protected. This feature helps organizations maintain the trust of their donors and ensures that their giving platform is secure and reliable.
Conclusion
In conclusion, choosing the right fundraising tool is crucial for nonprofit institutions looking to achieve their fundraising goals. DonorMozo is the best online fundraising platform for nonprofits, offering a range of features that help organizations create effective fundraising pages, reach a wider audience, and increase digital fundraising. With its user-friendly interface, mobile-optimized online platform, multiple payment options, integration with other tools, and advanced security fundraising platform features, DonorMozo is the best fundraising platform for your nonprofit sector looking to make a real impact in their communities.
Subscribe to our Newsletter
Subscribe for latest Non-profits, Political and Temple Related Updates.