Top 10 creative fundraising ideas for nonprofit organizations
DonorMozo editor
19 Apr 23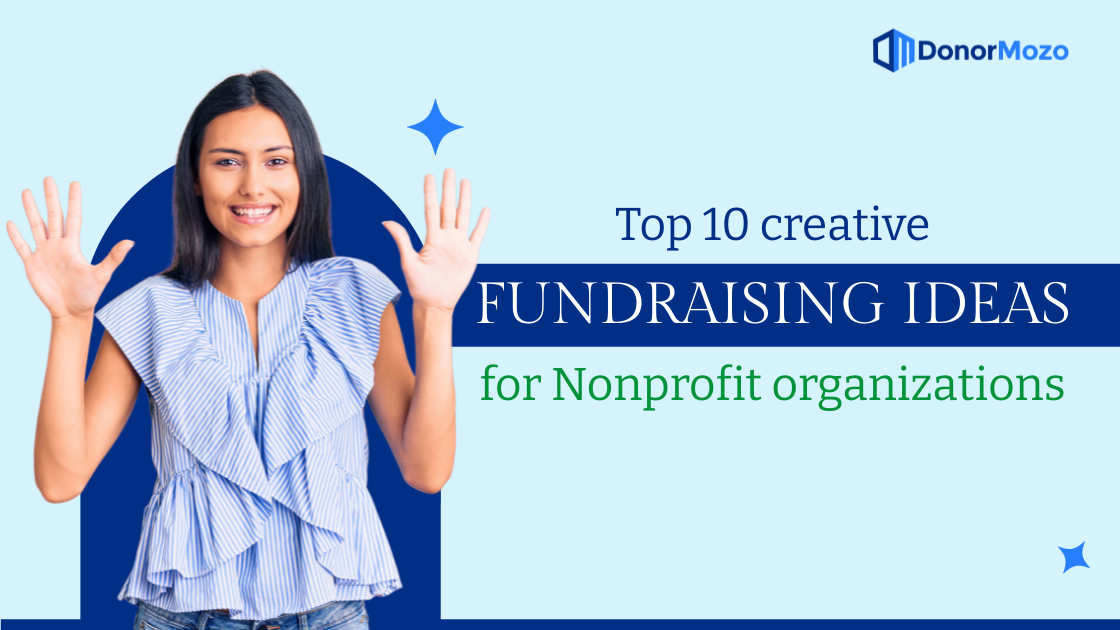 Nonprofit organizations rely heavily on donations from individuals and businesses to support their missions. However, fundraising can be challenging, especially for smaller organizations with limited resources. That's why it's essential to get creative when it comes to fundraising. In this blog post, we'll share ten creative fundraising ideas for nonprofit organizations.
1. Peer-to-Peer Fundraising
Peer-to-peer fundraising is an excellent way to engage your supporters and raise money for your organization. In this type of fundraising, individuals create their fundraising pages and solicit donations from their friends, family, and social networks. This way, you can tap into the networks of your supporters and reach a broader audience.
To make peer-to-peer fundraising successful, you need to provide your supporters with the tools and resources they need to create effective fundraising pages. This includes guidance on how to tell their story, suggested donation amounts, and images or videos to share.
2. Crowdfunding
Crowdfunding is another popular way to raise money for nonprofit organizations. With crowdfunding, you can create an online fundraising campaign on a fundraising platform and share your campaign page through email, text message, and social media and ask people to donate to your cause. You can set a specific fundraising goal and provide regular updates on your progress.
To make your crowdfunding campaign successful, you need to create a compelling story that inspires people to donate. You also need to provide incentives for people to donate, such as exclusive merchandise or shoutouts on social media. DonorMozo empowers non-profits to launch digital campaigns effortlessly. Through its user-friendly platform, organizations can create a single mobile-friendly page and share it across multiple channels, including social media, email, text messages, and WhatsApp. By leveraging the power of crowdfunding, DonorMozo makes it easier for non-profits to collect donations and reach their fundraising goals more efficiently and effectively.
3. Matching Gifts
Matching gifts are a great way to increase the impact of your fundraising efforts. With matching gifts, a company or individual pledges to match the donations made by your supporters up to a certain amount. This can incentivize people to donate more, knowing that their donation will be matched.
To make matching gifts successful, you need to identify companies or individuals who are willing to pledge matching gifts and promote the matching gift program to your supporters.
4. Online Sales
Online sales can be an effective way to raise money for your nonprofit organization, especially if you sell merchandise that aligns with your mission. You can set up an online store on your website and see your merchandise.
To make online sales successful, you need to promote your merchandise on social media, create eye-catching product images, and offer discounts or promotions to incentivize people to buy.
5. Social Media Challenges
Social media challenges can be a fun and engaging way to raise awareness and funds for your nonprofit organization. You can create a challenge around a specific theme or cause and ask people to participate and donate.
To make Digital Fundraising Strategies for Non-Profits successful, you need to create a clear set of instructions for the challenge, promote it on social media using hashtags, and provide incentives for people to participate and donate.
6. Fundraising Events
Fundraising events are a classic way to raise money for nonprofit organizations. You can host virtual events like online concerts or auctions, or host in-person events like a charity walk, Gala or run. To make your fundraising event successful, you need to promote it well in advance, provide clear instructions on how to participate, and offer incentives for people to attend and donate. You can leverage event platforms such as EventMozo.com to promote and sell event tickets for your fundraising events.
7. Online Giving Days
Online giving days are becoming increasingly popular among nonprofit organizations. These are days when people are encouraged to donate to their favorite causes through online platforms. You can participate in national giving days like Giving Tuesday, or create your own online giving day for your organization.
To make your online giving day successful, you need to promote it well in advance, create a sense of urgency around the event, and offer incentives for people to donate, like matching gifts or exclusive merchandise.
8. Corporate Sponsorship
Corporate sponsorship can be a significant source of revenue for nonprofit organizations. You can reach out to businesses in your community and ask them to sponsor your organization or specific events. In return, you can offer them advertising or promotional opportunities, like having their logo on your website or event materials.
To make corporate sponsorship successful, you need to identify businesses that align with your mission, create a clear proposal outlining the benefits of sponsorship, and provide regular updates to your sponsors on your progress.
9. Donor Appreciation
Finally, donor appreciation is an essential part of fundraising for nonprofit organizations. It's essential to show your supporters how much you appreciate their donations and support. You can send personalized thank-you notes, host donor appreciation events, or create a donor recognition program.
To make donor appreciation successful, you need to make it a priority in your fundraising strategy, create a system for tracking and thanking donors, and provide regular updates on how their donations are making a difference.
10. Auction Events
Fundraising events have been a popular method for nonprofit organizations to generate funds. Hosting in-person events such as charity walks, galas, and runs can create a sense of community while bringing in donations. Auctions at in-person events can also be a successful method of fundraising for nonprofits, offering unique experiences and items to donors. Consider incorporating auctions into your next fundraising event to maximize your nonprofit's impact.
In conclusion, this blog post has highlighted ten creative fundraising ideas for nonprofit organizations, including peer-to-peer fundraising, crowdfunding, matching gifts, online sales, social media challenges, fundraising events, online giving days, corporate sponsorship, donor appreciation, and auction events. By implementing one or more of these strategies, nonprofits can engage their supporters, reach new audiences, and raise more money for their cause. With the right tools and resources, even smaller nonprofits with limited resources can succeed in their fundraising efforts and make a significant impact.
One effective fundraising platform for nonprofits to consider is DonorMozo. DonorMozo is a user-friendly, cloud-based fundraising platform that allows nonprofits to create customized donation pages, manage donor information, and track donations in real time. With DonorMozo, nonprofits can easily set up online campaigns, collect donations from multiple channels, and leverage social media to reach a wider audience. In addition, DonorMozo offers a range of tools and resources to help nonprofits increase their online fundraising success, including personalized coaching, auction events, email marketing, and peer-to-peer fundraising campaigns. By using DonorMozo as a fundraising platform, nonprofits can streamline their fundraising efforts, engage donors, and raise more money for their cause.
Subscribe to our Newsletter
Subscribe for latest Non-profits, Political and Temple Related Updates.