15 Proven Digital Fundraising Strategies and Best Practices for Non-Profits
DonorMozo editor
16 Jun 22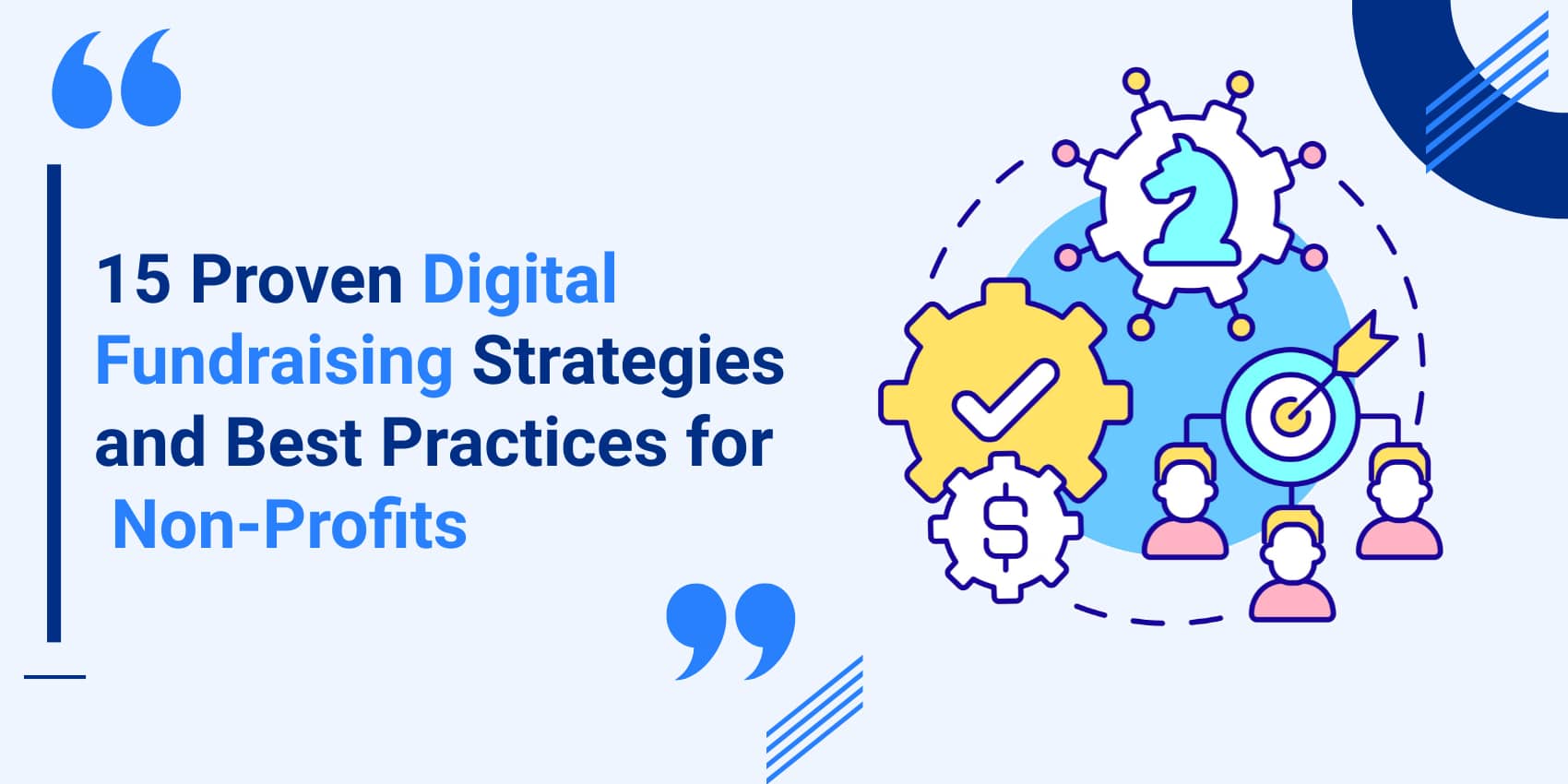 In the past, non-profits usually ran in-person campaigns and events to raise funds, which limited their reach and donation. Thanks to digital fundraising, not-for-profit organizations can easily reach a wider audience, customize campaigns, and increase donations. If you haven't joined the digital phenomenon yet, here are 15 proven digital fundraising strategies and best practices for non-profits that can help.
What is Digital Fundraising?
In simple words, digital fundraising is the process of using online fundraising methods and applications to reach a large donor base and build or strengthen relationships with them. It is an ongoing process that begins with online outreach methods like websites, emails, and social media to catch the attention of the targeted audience.
After donors make their first donations, you can build stronger connections with them, encourage peer-to-peer donations, and enhance your reach. You can also automate processes to manage donors and strengthen your relationship with them. DonorMozo, a digital fundraising platform, can help you start online fundraising and leverage the digital world to thrive.
Why is Digital Fundraising Essential for all Non-Profits?
As offline donations involve a lot of effort and volunteer work, online donations can reduce those issues. There is no need to collect donations personally when an NGO can get them online. Digital fundraising makes outreach and donor management simpler and uncomplicated, as you can do both with a few clicks.
Boosts Awareness
Due to social media platforms and online fundraising methods, digital fundraising can help NGOs reach more people in a shorter period. It also enables donors to get involved with crowdfunding and peer-to-peer fundraising.
Enhances Donor Retention
Non-profits can engage with donors and boost donor retention with digital fundraising. Recurring donations and gift matching are some techniques that help increase donations with minimal effort and let the donors stay connected.
Reduces the Workload
Due to technological innovation and platforms like DonorMozo, human effort is replaced by automation. Hence, donor management is simpler and more affordable. Thanks to automation, sending out acknowledgments and monitoring donation changes can be done from a distance.
Increases Donations
The convenience offered by digital fundraising allows donors to donate on the go and even through their mobile. It helps increase the overall donations and revenues of an NGO.
Non-profits that want to create effective campaigns can trust DonorMozo, an online digital fundraising platform that helps raise more money in less time.
15 Digital Fundraising Strategies for Non-Profits
Here are the top 15 proven digital fundraising strategies and best practices for non-profits.
Set Up a Branded Donation Page
Branding is very important these days, even for NGOs. You can start branding your NGO by setting up a branded donation page that confirms the authenticity of your organization and helps build people's trust. It can be done in a few minutes, thanks to digital advancements.
Choose the Right Donation Platform
When choosing the right donation platform, NGOs have more choices than ever. It is recommended that you pick a platform that helps you to maximize donations in a minimum amount of time. You must also read reviews to ensure you don't trust an unreliable platform. Ask for a demo from their team and be assured you make the right choice. DonorMozo, an online digital fundraising platform, could be an excellent choice.
Initiate a Campaign
Most donors don't like to donate to organizations that aren't transparent about where the donations are going. You can ensure that you don't make the same mistake by initiating online campaigns that raise money for a cause and lets donor track every dollar contributed. You can also add a goal meter to keep the donors motivated.
Invest in a Paid Ad Campaign
NGOs can also initiate and manage paid ad campaigns like Google Ads, Facebook Ads, etc., to raise awareness about their mission and specific causes. Google Ads also helps NGOs boost their Google page rankings and quickly reach a wider audience.
Promote the NGO Through Social Media
Promoting the NGO via social media platforms is also easier. Sending outposts and videos using different social media platforms allows NGOs to connect with their donors and the larger community. It also makes sharing content easier for the donors who can share a cause with their family/friends with just a click.
Pay Attention to Local SEO
Non-profits that focus on causes related to communities around them can focus on local SEO with the help of technology and use keywords and online applications that help them connect with local donors. It makes collecting donations for local causes simpler.
Videos are Better than Texts
A smart way for NGOs to connect with the donors is to show their work in real-time via live or previously created videos. When donors see the faces of people their donations will help, they are eager to give more.
Recurring Donations Develop the Habit of Giving
Recurring donations are better than single donations. They can be given weekly, monthly, or yearly. They help build a relationship between donors and the NGOs. Donors who contribute regularly usually connect with the causes and even promote the NGO to others.
Promote Monthly Giving
Monthly giving is the quickest growing segment in the world of donations. It increases lifetime donor value and ensures your NGO has a steady revenue stream. It also helps with better donor engagement as your donors think of your NGO every month!
Offer Scan to Donate
No donor likes to wait for minutes or complete several steps to donate. It is where tools like scan to donate, offered by DonorMozo, can help. It allows NGOs to collect donations instantly after a donor scans a QR code and contributes.
Focus on Long-Term Relationships
Digital fundraising can help non-profits to build long-term partnerships with sponsors. They can keep the sponsors in the loop about everything happening with the NGO and impress them enough to ask for a bigger donation every time they organize an event. Bigger donations are also likely when an NGO has a larger reach via social media platforms.
Use Email Marketing For Promotion
Email marketing is not dead. In 2022, global email users are forecast at 4.3 billion, which will grow to 4.6 billion in 2025. So, an NGO should promote all campaigns via emails. It's also an effective way to stay in touch with donors. Make sure you evaluate the email success rates and refine the content or update it every few days to keep it relevant.
Develop a Segmented Email List
Emails are and have been a trusted way to reach donors for non-profits. However, many NGOs don't have a segmented email list, which can impact their chances of success. Thanks to technology, non-profits can easily develop a segmented email list and send regular emails through Mailchimp. Tools like DonorMozo make it not only possible but also simpler. It can help enhance the response rate of NGOs to their email campaigns.
Offer Gift Matching
Digital fundraising can also help with gift matching. For example, an NGO can request an organization to match the contributions made by their employees for a cause. NGOs can also set up donations that are time-bound. Donors respond better when there is a time limit set. NGOs can encourage more donations, publish regular social media posts and a digital thermometer that can help visibly monitor how the campaign is doing.
Measure Impact
Analyze the outcome of every campaign launched by your NGO. You can do that by several methods like comparing the reach of campaigns, measuring the likes/shares on social media, and comparing donation amounts or revenue generated by each platform. Use advanced analytics to measure non-financial impact (reputation enhancement or brand development).
Final Words
All in all, it can be said that digital fundraising strategies & best practices for non-profits are quite useful and can provide measurable and impactful results if done right. If you want to get started with taking your NGO on the digital path, you can learn more about DonorMozo.
DonorMozo is a technologically advanced platform that offers end-to-end donation solutions, including but not limited to creating effective campaigns, connecting with the target audience, educating them, raising money online, developing long-term partnerships, and reaching more and more people via social interactions. Contact us today to know more!
Subscribe to our Newsletter
Subscribe for latest Non-profits, Political and Temple Related Updates.