5 Technology Trends for Non-Profits in 2023 and Beyond!
DonorMozo editor
04 Apr 23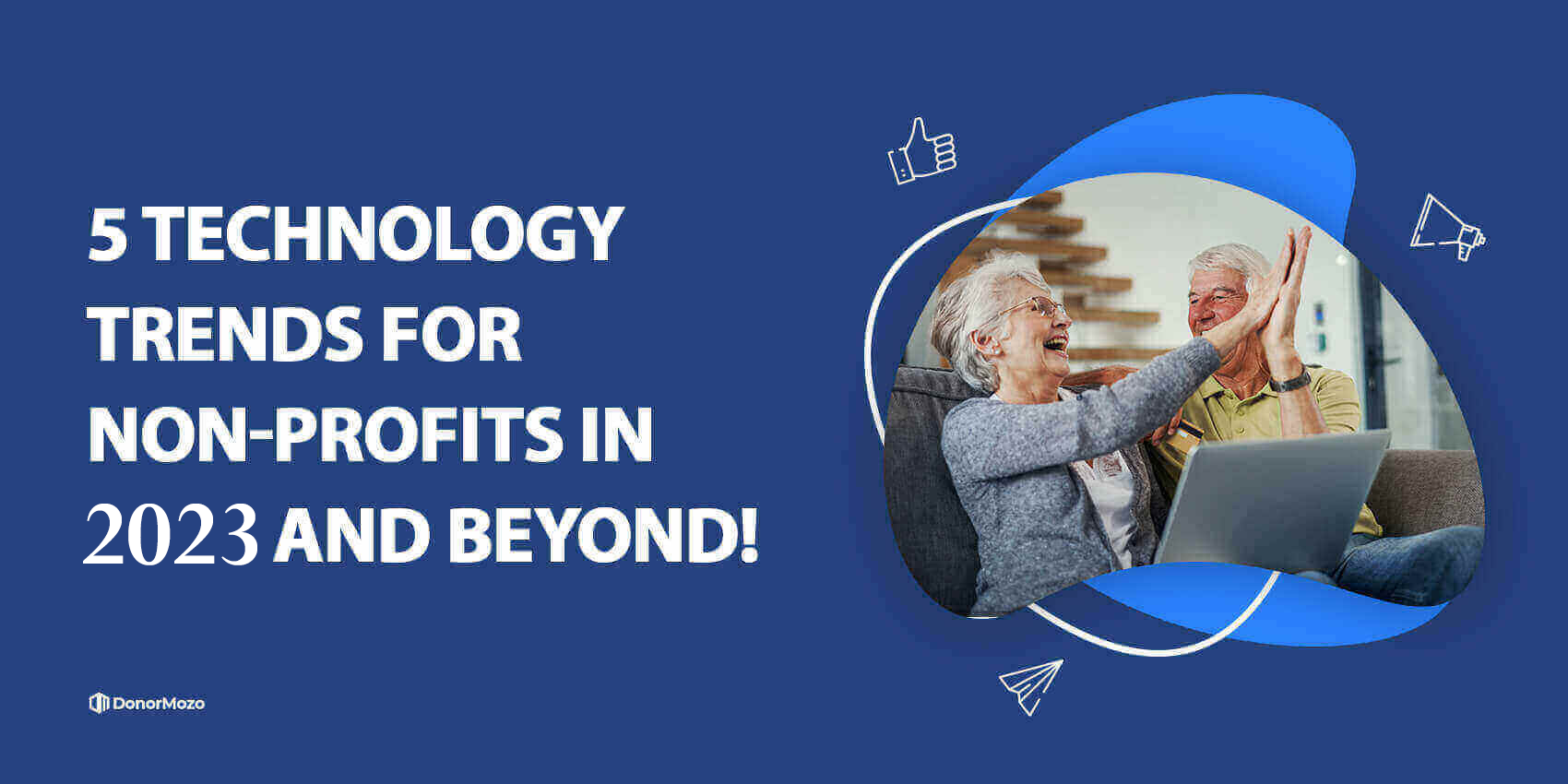 The world is expected to have 7.5 billion internet users by 2030. It is proof that every organization should be technically advanced, whether one is seeking profits or a not-for-profit. If you also own or manage a non-profit, you should know the top 5 technology trends for non-profits in 2023 and beyond. It will help you become more tech-friendly and connect with a larger donor base.
Go Digital with a Website
One of the technological trends you can't skip when adopting technology within your non-profit is to build a website. When drafting this blog, there were about two billion websites worldwide. And this number is bound to increase with time. A website is an online home for your non-profit where people can know more about you, your mission and confirm your authenticity. So, ensure your website is fast, SEO-friendly, and information-rich.
Run Online Campaigns
After you have created a website for your non-profit, the next step is to run online campaigns that help you share which causes you are working on, how much donations are needed for each cause, and how much donations have been collected so far. Thanks to tools like DonorMozo, Even a person who is not very skilled at technological tools can create and run customized campaigns. Everything is simplified, and people of any age can use it to create campaigns that make an impact.
Automate Mundane Tasks
Many non-profits are short on human resources. Do you take the help of all interiors to do tedious and mundane tasks like keeping a record of bonuses, updating the records, reaching out to the donors, maintaining donation records, tracking every dollar, and much more. With the help of DonorMozo, a non-profit can automate these mundane tasks and let the volunteers and members of the non-profit focus on much more important tasks- helping the people.
Use Social Media to Connect and Communicate
Anyone who lives in this modern world cannot deny the power of social media. Social media platforms like Facebook, Twitter, Instagram, and others have touched the lives of most internet users. Everyone from a common person to a celebrity to a politician is active on social media. With DonorMozo, you can easily promote your non-profits' causes on social media platforms and reach out to the masses in a few minutes. You can also engage the donors and encourage them to boost peer-to-peer fundraising.
Give Donors a Secure Way to Manage and Repeat Donations Online
Donors only prefer to donate to organizations that keep their money safe and sensitive data secure. DonorMozo allows anyone to donate to a non-profit and its causes securely. Donors also get the power to repeat donations online and donate every week, month, or year. It saves them from the hassle of donating manually again and again.
Want to know more about DonorMozo? Connect with us today!
Subscribe to our Newsletter
Subscribe for latest Non-profits, Political and Temple Related Updates.