Top 6 Reasons Why Temples should Adopt the Technology!
DonorMozo editor
10 Jun 22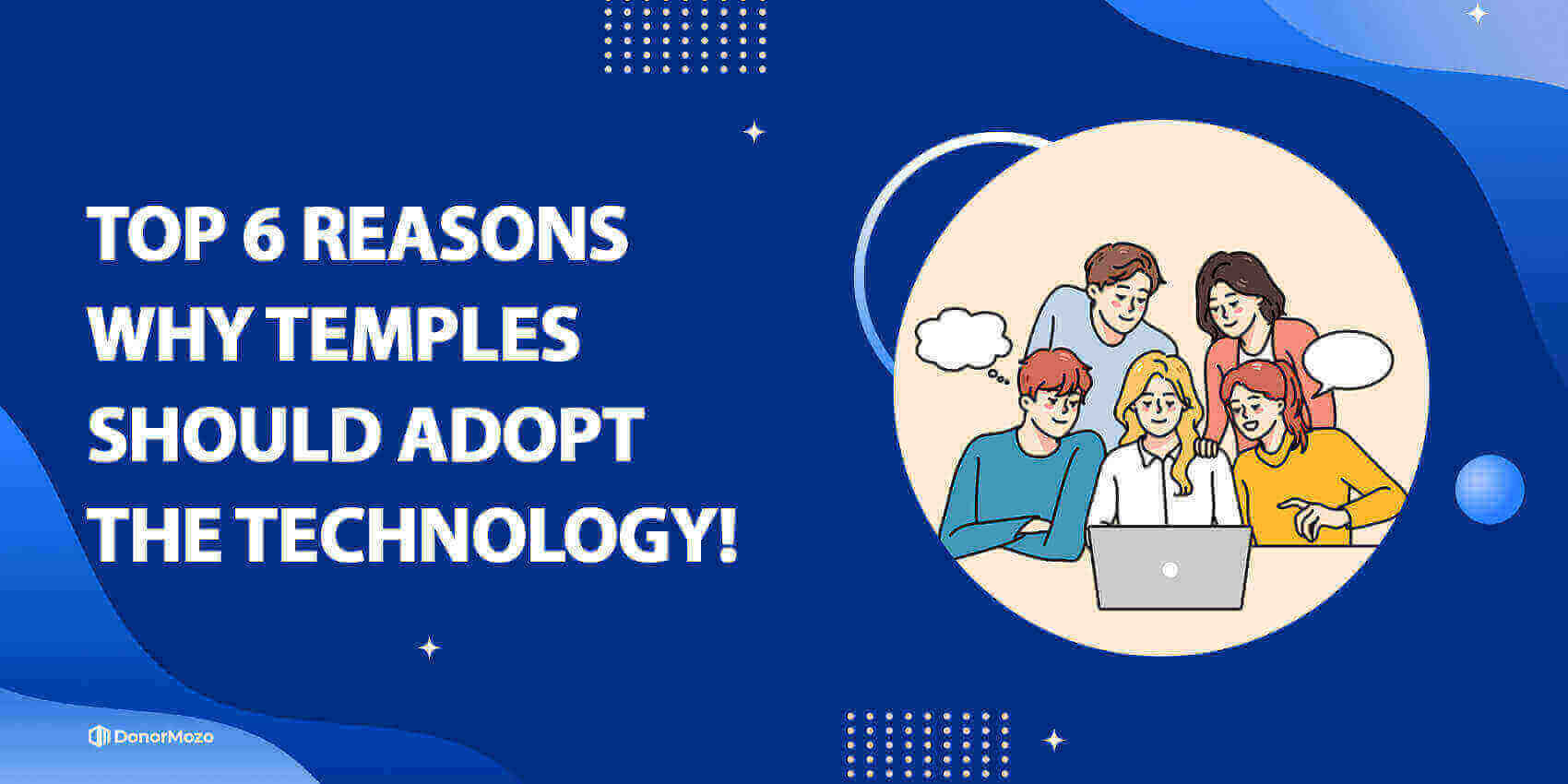 Many long-time temple leaders resist the idea of adopting technology without knowing its benefits. So, it's time they learn that technology can be their friend and a useful tool that helps them connect with their audiences better. Here we have explained the top 5 reasons why temples should adopt the technology.
Expand the Audience and Donor Base
It is a fact that most temples rely heavily on their audience, including the donor base, to function properly and get the required funds. Technology can help temples to expand their audience and donor base. Temples can use social media platforms or give virtual tours to devotees to keep them engaged. Even going Live on social media platforms can help connect with home-bound people, students, service members, and women who don't visit the temples much on their own.
You can also leverage social media to connect more people (especially youngsters) with your temple. You can also give a shout-out to donors who help a lot and help donors to donate to a cause they believe in while also tracking every dollar they are donating.
Simplify Temple Management
Using technology can make temple management simpler. You can also use technology to replace manual work like entering donor information, keeping track of all incoming donations, generating receipts, and tracking payments for services/products offered (like Puja Booking or puja samagri shopping) by automating everything. This will free up your time to reach more donors and increase temple revenue.
Raise More Funds Quickly
With technology, you can also raise more funds for your temple. When you use an effective tool like DonorMozo, you create custom campaigns for specific donations. You can create a campaign in just 10 minutes and reach out to more donors with each campaign. More donors mean higher donations. For instance, you can raise funds for a religious pilgrimage for the poor people who are devoted but can't afford it on their own. You can also organize peer-to-peer campaigns and allow users to scan and donate with a few simple clicks.
Make it Simpler to Collect Donations 24/7
With technology, you can collect donations anytime and anywhere. Cloud-based applications like DonorMozo are live 24/7, allowing donors to donate anytime they want online from the comfort of their homes. The donors can also scan and donate with a QR code and even donate when they are on the move.
Ensure Better Transparency
With the help of technology, you can also ensure better transparency within your temple. Devotees can easily manage tasks like puja booking, hall booking, Bhoj booking, and pay donations online and get 100% authentic receipts. There is no need for your temple volunteers to manage such things manually. They can instead focus on other temple tasks and activities. When everything is online and trackable, it also boosts accountability and ensures 100% transparency.
Better Security
Technology can also help boost the security of a temple and make it a safer place. You can install CCTV cameras to ensure the temple is safe from theft and vandalism. Temple management can also use technology to monitor temple activities remotely when you are not there.
Need to integrate technology with your temple to enhance temple management and increase donations or revenue? Talk to the DonorMozo team and let us give you a helping hand!
Subscribe to our Newsletter
Subscribe for latest Non-profits, Political and Temple Related Updates.