Steps to Take When You Need Digital Fundraising for Your Political Campaign
DonorMozo editor
10 Jun 22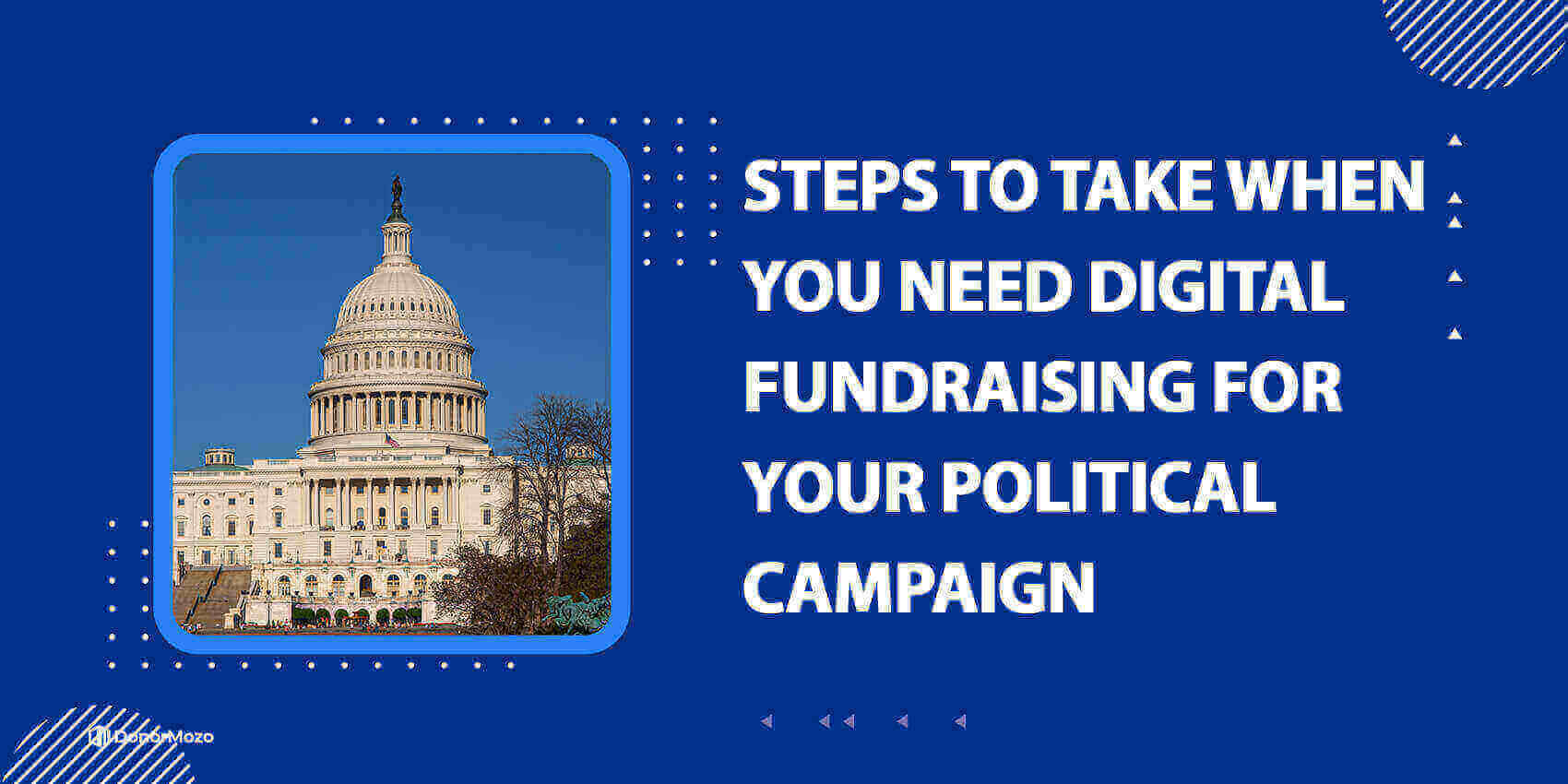 To make any political campaign successful, you need funds. If you are already uber-rich and have millions of dollars, you are good to go. Otherwise, you might need the assistance of digital fundraising to fund your political campaign and reach a wider audience.
Whether this is your first political campaign or you are a seasoned politician, you need to consider leveraging technology to make your digital fundraising efforts a success. To help you out, here we have listed the steps to take when you need digital fundraising for your political campaign.
Identify a Fundraising Goal
The first thing you need to do when opting for digital fundraising is to identify a fundraising goal. When you ask for money from your donors, you should have a number in mind. A smart way to do that is to look at what politicians have done in the past and even look at the funds your competitors are raising.
Know Your Target Audience
The second step you cannot skip is to know your target audience. When you know the demographics and how your audience thinks, you will be able to craft better campaigns that they can connect with or relate to.
Choose Right Donation platform and Create Campaigns
Once you complete the above two steps, the next step is to choose the right donation platform for your political campaign. You can do that in less than 10 minutes with the help of DonorMozo, a digital fundraising platform preferred by politicians. You can customize the campaign extensively to make it more relevant to your goals.
It is one of the well-known facts that the simplest way to increase donations is to set a timeline for it. If you want to raise money for a specific political campaign, make sure you set a deadline for it. Doing so will encourage your donors to donate quickly before the campaign ends.
Make Donations Process Simpler
Another smart way to raise more funds for your political campaigns quickly is to make the donations process simpler. Your target audience should be able to donate with just a click or by using their mobile (with a QR code). You can also ensure they get to choose from multiple payment methods, donate 24 by 7, and easily set up recurring payments.
Let Go of Tedious Processes
When doing digital fundraising for your political campaigns, make sure you use a technologically advanced online fundraising platform like DonorMozo that allows you to generate receipts online, share your campaign on social media platforms swiftly, and make donor management easy.
It is also essential for you to track where every donated dollar is going and maintain 100% transparency. DonorMozo can help with that by allowing you to keep an eye on donations 24/7. You can also share where the donations are going with the donors, so they feel you are honest and reliable.
Subscribe to our Newsletter
Subscribe for latest Non-profits, Political and Temple Related Updates.